OUR STORY STARTED 40 YEARS AGO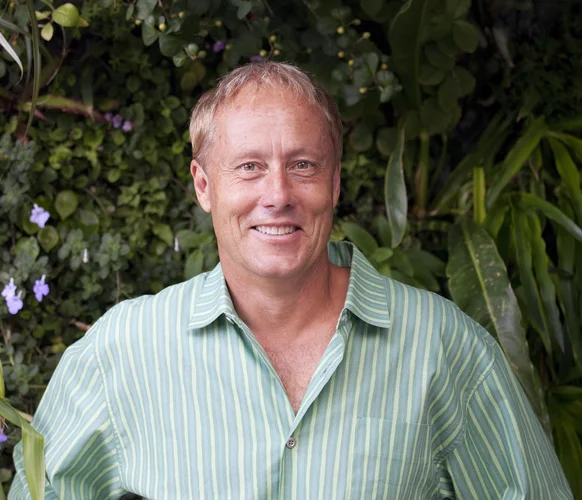 Mark Paul, the founder, a trained Marine Biologist turned Horticulturist, migrated from swimming among the fisheries and working on coral reefs and estuaries, to the dry lands surrounding the Northern Beaches of Sydney. Home to many of the lithophytes and epiphytes that fascinated him as a child, Mark looked to the built form as a canvas for nature's reintegration. Pioneering in nature-based solutions and a deep desire to recycle waste while creating new life, Mark created patented innovations in lightweight media where plants thrive. Using 95% recycled materials, less water, a deep knowledge of the Australian environment and flora, The Greenwall Company has delivered over 2,000 projects. Our green walls and green roofs are known for their light weight, diversity, durability and low maintenance. One of the greenwalls is over 35 years old and is still thriving. We have a deep belief that we can green Australian cities for everyone's benefit.
NATURE RUNS
THROUGH OUR VALUES
Cohabitate
It's all about finding that perfect balance between us humans and the natural world. We're passionate about bringing back the vibrant biodiversity and nature into our environment, and we're always on the lookout for ingenious ways to make it happen. Our mission? To create a world were humans and nature live together in peaceful harmony, no less. We respect the incredible diversity of our planet and put in the hard yards to ensure that our actions support the natural world around us.
Earthed
We're about being down to earth and cutting out the bull. We pride ourselves on staying grounded and keeping things real. We understand the importance of honesty and integrity in our work. We don't believe in fancy jargon or empty promises. What you see is what you get with us. We tackle every project with a no-nonsense approach, delivering practical solutions that stand the test of time.
Nurture
"Nurture" isn't just some fancy gardening word—it's what we live and breathe. Sure, it's about taking care of our plants, but it goes way beyond that. Safety is our top priority. We make sure everyone's got the gear and know-how to work without any worries. We watch each other's back and we're a tight-knit crew, always lending a hand when someone needs it.
When it comes to our clients, we're the guides they can trust. We know the ropes and steer them in the right direction. 
Cultivate
It's like prepping the soil for fresh ideas and giving them the best chance to grow strong. We aren't afraid of rolling up our sleeves and doing things the right way, even if it means putting in the hard yards. We know there might be quicker routes, but we believe in quality workmanship and doing things with pride.