In 2005, we were extremely proud to launch the next advancement in greenroof technology – the introduction of the Eco Pillow. Modular in design, the Eco Pillow is a pre-grown living pillow that offers all the proven benefits of a green roof while radically reducing risk and cost of the roofing structure.
Moving forward to today, we have evolved the Eco Pillow, enabling the size and shape to be a bespoke design to fit any space or structure based on the brief. We started with 94% of the materials recycled, primarily made up of broken-down PET bottles, however over the past few years we have been able to incorporate more items previously destined for landfill including polystyrene and ground coffee waste. This innovative way to take waste products destined for Australian landfill to reduce our carbon footprint is just one of the many benefits of our ever evolving Eco Pillow solutions.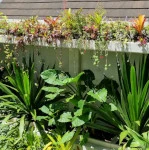 The Eco Pillow structure and the growing medium were developed for their lightweight properties, making a 1m x 500mm x 120mm Eco Pillow just 60kg/m2. Creating a lightweight and modular product was always at the forefront of the design priorities. By reducing the overall weight, we reduce the builders need for additional structural support and open the possibility of retrofitting – something we felt the market was demanding at the time which is even more prevalent today.
The Eco Pillow can be easily relocated, which further enhances its adaptability and is planted to last the lifetime of the structure it has been applied too. As a pre-grown, and fully encased product, the Eco Pillow is incredibly quick to install and reduces the risk of failure from extreme weather conditions, wind scour or rain erosion. The semi mature plants provide cover from day one, reducing establishment time, and the likelihood of weed invasion – the two primary drivers of maintenance cost.
Internationally, and here in Australia, the trend towards 'greening' buildings is now a top priority with architects, builders as well and local and state governments. Greenroofs have been proven to not only radically reduce stormwater runoff and therefore the cost of disposal, but they also provide greater insulation for a building, prolong the life of the roof membrane and reduce noise penetration.
Installing a greenroof using our Eco Pillows also makes a valuable contribution to the external environment, amenity, and provides an inhabitable environment to promote biodiversity. They are beautiful and calming to look at and use, increasing the worth of the real estate they are on and viewed by.
The many benefits of greening spaces with our patented Eco Pillow designs include:
Pillows are lightweight and when wetted out are 60kg/sqm
Can be installed indoors or outdoors without limitations of dimensions and luminosity
Countless creative possibilities: no two installations look the same
Guaranteed aesthetic impact!
Biodiversity
Thermal isolation of any surface, resulting in great energy savings
Absorption of pollutants and noise, greatly improving acoustics
Increase of relative humidity and air oxygenation
Can be moved to a new location
Carbon is withdrawn from the atmosphere, reducing the greenhouse effect
Made from reused and recycled materials
Low maintenance, only requires quarterly maintenance
Has a dedicated irrigation system
Doesn't require large structural support to house them
Easy to manage